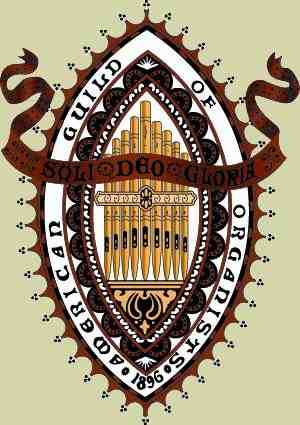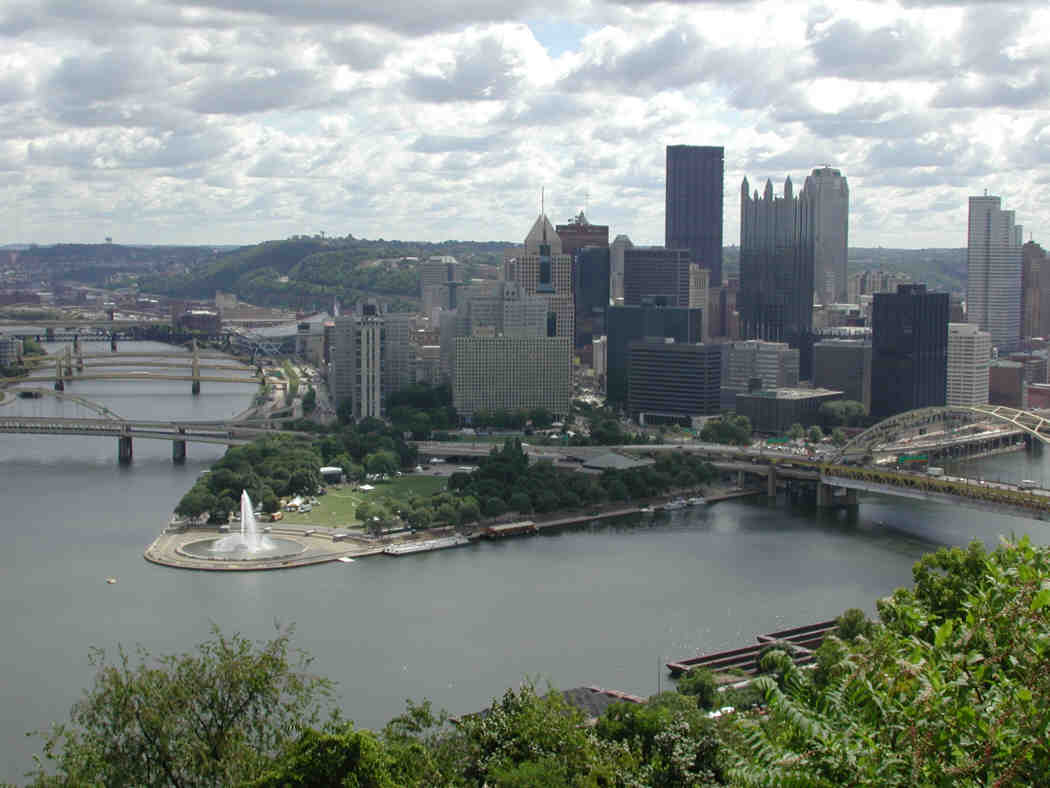 Pittsburgh Chapter
of the
American Guild of Organists
---
Pittsburgh Chapter
American Guild of Organists
Pictures Of Recent Events

27-Jun-2004 through 2-Jul-2004 has the Duquesne University Chapter of the AGO hosting a Pipe Organ Encounter (POE). This allows high school aged students exposure to great organs throughout the city supported by professional organists from all over the country.
Students arrived at First Lutheran church in downtown Pittsburgh for the first evening program on Sunday the 27th at 5:30PM.
Duquesne University, where students were boarded, is in downtown Pittsburgh (pictured right). Several downtown churches were within easy walking distance of the University.
Ronald L. Gould, SMD, AAGO, (pictured left) from the National AGO was returning from New York to Ohio and stopped by in Pittsburgh to check out the start of the event. He was happy to see it was so well attended and well organized!
Cynthia Pock, Music Director at First Lutheran, and Jeff Alban, POE Director, arrive to find things all being well handled by the staff.
It was time to feed the multitudes and have everyone get to know each other.

Everyone was ready to eat!

The pizza arrived...

...and so did the drinks.

The students were on the attack - pizza and soda disappeared.

And the faculty started arriving, Ronald L. Gould from the national AGO chats with Gregory D'Agostino, Donald Sutherland, and Peggy Haas Howell.

Faculty Coordinator Adam J. Brakel was pleased to see the excitement that the Faculty had for the event (and that they were all finding there way to the event!)
Well, not everyone was excited; one tired student took a quick cat-nap before the Staff recital.

At 7:30PM, everyone assembled to hear the POE staff in recital.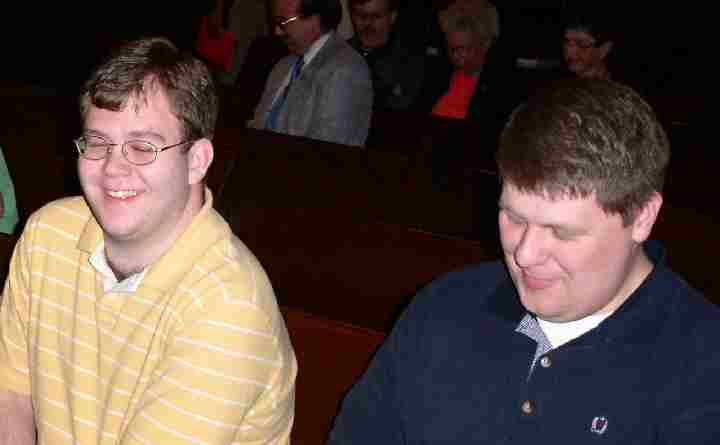 Some other organ aficionados, pictured right, were in the audience to enjoy.
Was the program really that interesting? Naaw, these two attendees are just being camera-shy!
There was some fast and furious playing, as director Jeff Alban delivers a spectacular musical welcome for the attendees. Kate Scott, program secretary, also played a beautiful piece by Langlais. She did a terrific job keeping tabs on things, assuring information packets were available for everyone, even having professional name badges for everyone that doubled as admission meal/dorm tickets.
Recital Program
| | | |
| --- | --- | --- |
| Work | Composer | Performer |
| Jubilo, A Prelude for Organ | Dan Locklair | Jeffrey M. Alban |
| Priére | Jean Langlais | Stephen J. Lipnichan |
| Communion, Op. 10 | Louis Vierne | Jon J. Danzak |
| Fantasia and Fugue in C minor, BWV 537 | Johann Sebastian Bach | Vincent Rone |
| Toccata in Seven | John Rutter | Robert G. Olsavicky, II |
| | Intermission | |
| Moto Ostinato | Petr Eben | Adam J. Brakel |
| Sonata No. 2 in C minor Fuga: Allegro Moderato | Felix Mendelssohn | Linette Zabrosky |
| Miniature | Jean Langlais | Kate Scott |
| Prèlude et Fugue sur le nom d'ALAIN | Maurice Duruflé | Jeffrey M. Alban |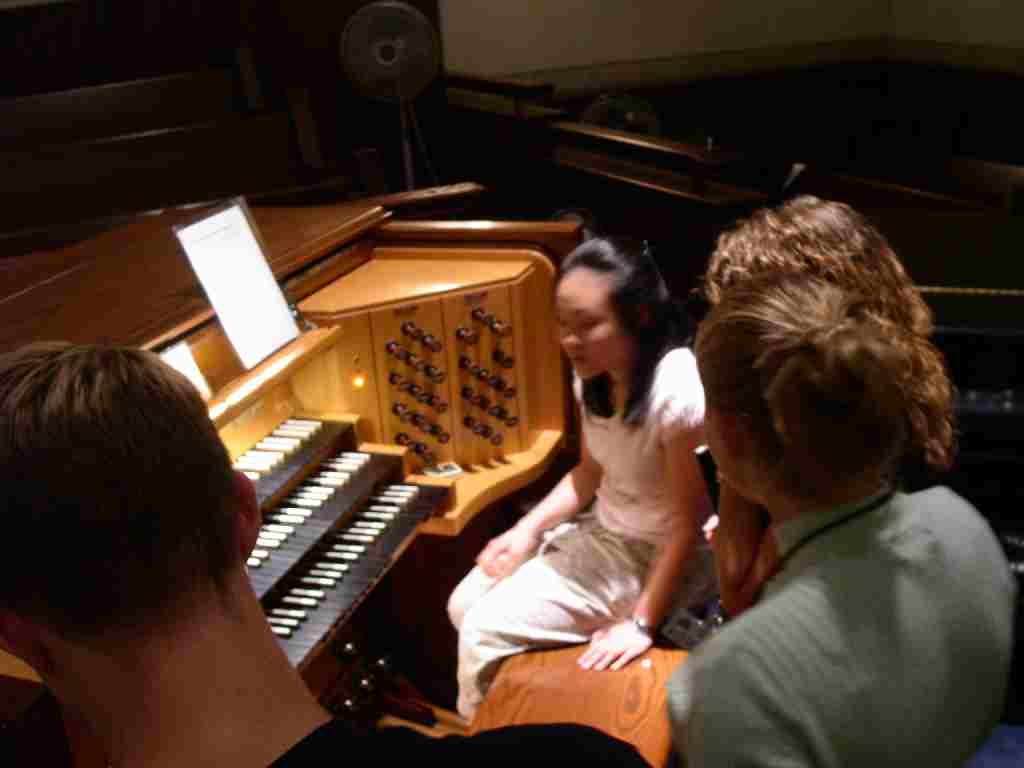 After the recital, students got a chance to check out the instrument; from loud to soft, they explored all of the dimensions that the instrument offered...
.....while other students watched intently to evaluate and learn.
Some were footloose and fancy free....! Who needs those expensive "Organmaster" shoes? Just kick them off and start playing!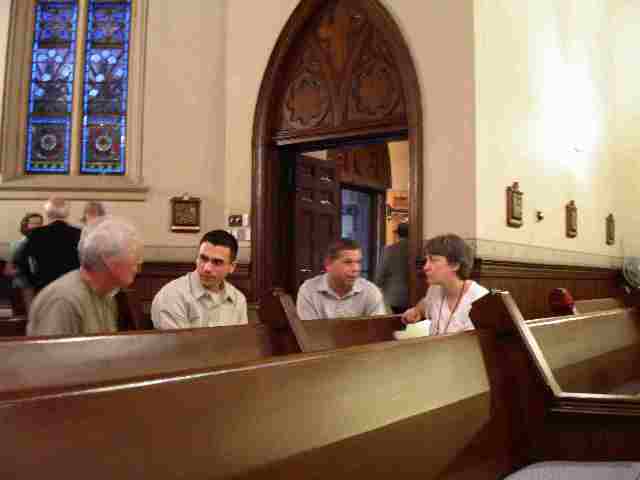 Faculty got more time chat while the students checked out the instrument. Pictured left to right are Donald Sutherland, Russell Weismann, Donald K. Fellows and Peggy Haas Howell. Both Donald and Peggy are faculty for the event. Russell Weismann is busy getting ready to play at the national AGO convention next week in Los Angeles where he will be a featured in concert.
Russell Weismann and J. Barbara McKelway chat about the week. Barb will be a Faculty member. In 1990 she worked with the national AGO to formalize the structure of Pipe Organ Encounters and authored the original 'how to' manual for the event. Her input was invaluable in providing guidance for this event.
---
Day 2 - Lessons and Peter R. Conte in Recital
After a day of lessons at area churches, the students got ready for a concert by Peter R. Conte, organist at the Wannamaker Department Store in Philadelphia - one of the largest instruments in the world.
The great organ at Shadyside Presbyterian Church in the Oakland section of Pittsburgh was ready for the event. The console was moved to the middle of the sanctuary so everyone could get a good view of the performance.
Students arrived and the pews were packed.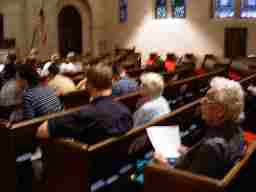 Many AGO members showed up to hear the performance. Dr. Robert Sutherland Lord, pictured left seated to right foreground, was excited about the event and opportunity for the aspiring organists.
Everyone was treated to a phenomenal performance of orchestral transcriptions by Peter R. Conte.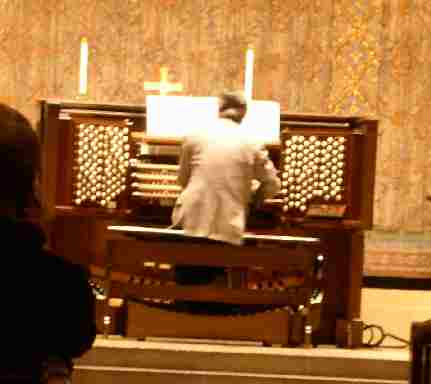 Concert Program
| | |
| --- | --- |
| Work | Composer |
| Overture to Candide | Leonard Bernstein ( transcribed by Peter Richard Conte ) |
| Prelude in G Minor, Op. 23 no. 1 | Sergey Rakhmaninov ( transcribed by Gotfried Federlein ) |
| Fantasy on Nursery Tunes | Robert Elmore |
| Funeral March for a Marionette | Charles Gounod ( transcribed by W. T. Best ) |
| Scherzo, from Sonata VIII | Alexandre Guilmant |
| Overture to 'Pirates of Penzance | Arthur Sullivan ( transcribed by Peter Richard Conte ) |
| Graceful Ghost Rag | James Hewitt ( transcribed by Peter Richard Conte ) |
| Sorcerer's Apprentice | Paul Dukas ( transcribed by Peter Richard Conte ) |
| Stars and Stripes forever | John Philip Sousa ( transcribed by George Faxon ) |
The students got a chance to meet the artist and check out the instrument!

Everyone lined up to see the console in the sanctuary. The gallery division is visible in the rear of the above photo.

The console was framed by two divisions on each side of the sanctuary.

Students got an up-close and personal look at the 4 manual instrument.

Peter R. Conte (front, left) chats with Dr. Robert Sutherland Lord (front, right, blue jacket) , Organist Emeritus of the University of Pittsburgh.

Students get a chance to talk with Peter R. Conte.

This fellow decided to go up and try something with the instrument after getting a few pointers from the performer!

Jonathan Biggers (right) chats with Peter R. Conte (left).

John Walker (left) chats with Jonathan Biggers.

Students lined up for quite a while to get a chance to meet the performer.
He's ready for his debut..
But, POE Director Alban said it was time to hit the busses, get to bed, and get ready for another day. His partner in crime, Linette Zabrosky, helped marshall the troops.

.

.

Back on the busses, getting ready for tomorrow!

.
---
Day 3 - Lessons and Faculty Recital
The recital at the end of the week was at Calvary Episcopal Church. Music Director,. Alan Lewis, was very accommodating with the facilities for the students.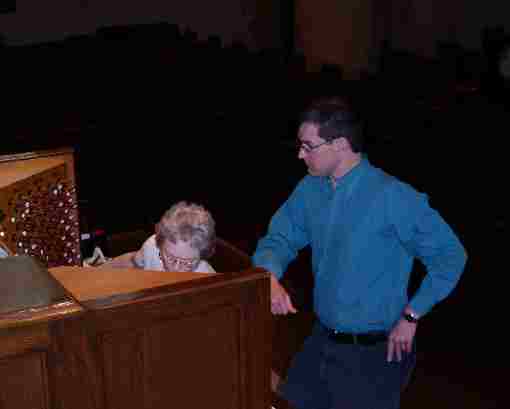 J. Barbara McKelway, pictured at the console, arrived early to do some final practice. Alan Lewis, standing, looks on to assist her with some final registration changes.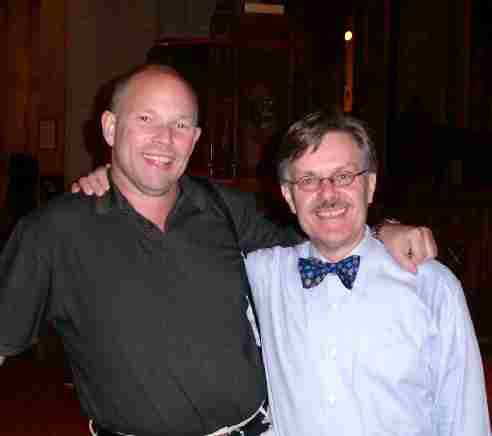 Faculty members Jonathan Biggers (left) and Huw Lewis (right), also arrived early and had time to relax before the kids arrived. .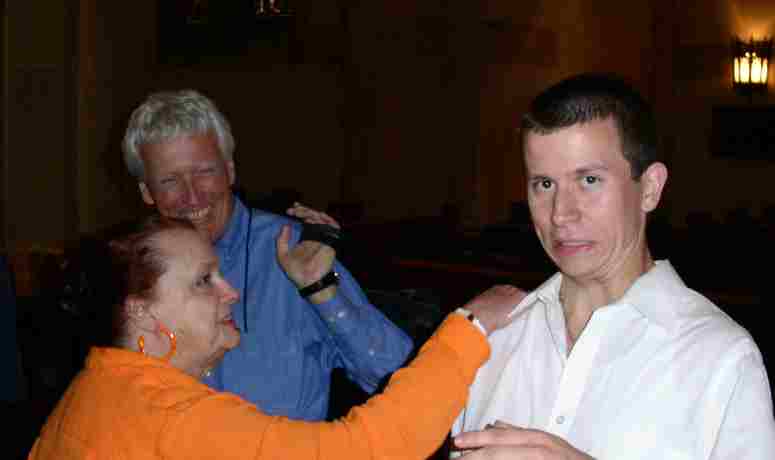 Faculty Coordinator, Adam Brakel, pictured in a white shirt just finds out that he gets to turn pages for just about everyone - a daunting task! Guild member Nancy Vaughan, in orange, consoles him as Donald Sutherland looks on. (Nancy is well known in the Pittsburgh Chapter for her work with after-event hospitality and the Pipe Organ Academy that provides free lessons to aspiring young organists.)
Time to get ready - the students arrive!
| | | |
| --- | --- | --- |
| Our sleeper from Day 1 must have caught up with his cat-nap. | POE Director Jeff Alban confers with instructor Joyce Moon Strobel. Joyce's church, Saint Stephen Lutheran Church , came through to provide facilities for the POE when an additional church was needed at the last minute. Thanks!! | One of the parents, William Scott, came up from Baltimore with his son to attend and Chaperone. He's been delighted with the program so far. His multi-talented son plays keyboard instruments as well as woodwinds! |
| | These local concert-goers came for every evening recital so far. They are real fans! | |
The Faculty Recital began on-time to a very attentive audience.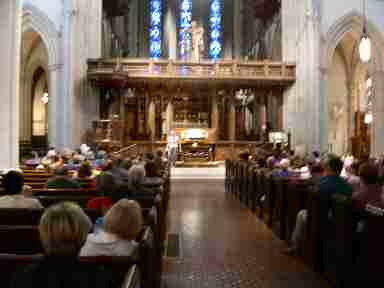 At intermission, many local attendees got a chance to say 'hi'. Mina Belle Packer Wichmann (far left) says 'hi' to her good friend, Joanne B. Rogers (middle) and her piano duet partner Jeannie Morrison (pictured right). Joanne and Jeannie tour together professionally. Jeannie's gifted son, organist Alan Morrison , is teaching at the POE. Alan is also on the faculty of Curtis Institute.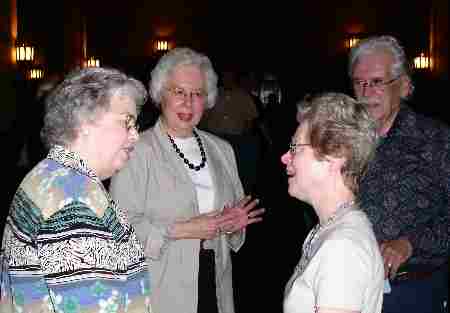 They also had a change to say 'hi' to another friend, J. Barbara McKelway, Dr. Robert S. Lord (background) looks on.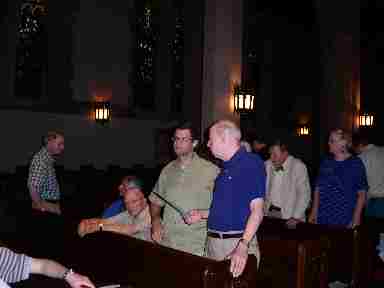 Local guild members were also impressed with the musical offerings and outstanding talent that the Faculty offered. The POE students were indeed fortunate that so many faculty generously donated their time and services!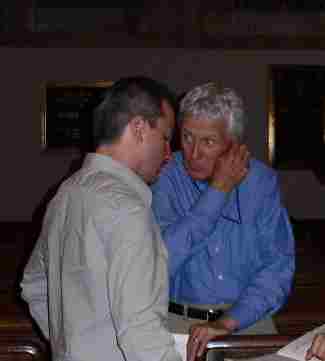 Alan Morrison (left) has a quick chat with Donald Sutherland (right).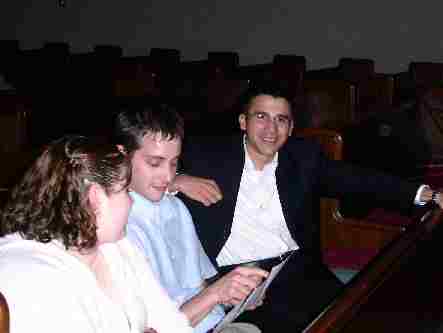 Russell J. Weismann (pictured far right) took a break from his formal practice for the upcoming AGO convention to hear the recital. He'll be playing at the National AGO convention in Los Angeles in July.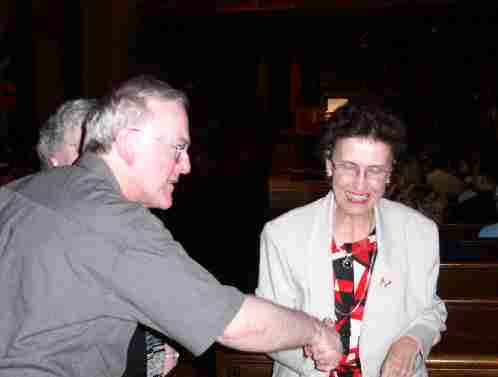 JohnWalker (left foreground), says 'hi' to his friend Jeannie Morrison (right). Dr. Walker has been teaching at the POE as well as working with Russell Weismann on his upcoming recital program.
The recital continued, with a spectacular finale by Gregory D'Agostino.
Faculty Recital Program
Work

Composer

Performer

Symphony No. 6, Op. 42, No. 2, I. Allegro

Charles-Marie Widor

Huw Lewis - Holland , MI

L'Ascension

Olivier Messiaen

David Craighead - Rochester , NY

Prelude & Fugue in G major, BWV 541

Johann Sebastian Bach

Donald K. Fellows - Pittsburgh , PA

Sine Nomine

John Weaver

J. Barbara McKelway - Pittsburgh , PA

Improvisation on submitted themes

Ann Labounsky - Pittsburgh , PA

Intermission

Prelude and Fugue in B major

Marcel Dupré

Jonathan Biggers - Binghamton , NY

Choral - Sweet Sixteenths

Joseph Jongen - William Albright

Donald Sutherland - Baltimore , MD

Symphony No. 3 Finale

Louis Vierne

Gary Garletts - Havertown , PA

Nun komm der Heiden Heiland, BWV 659

Johann Sebastian Bach

Stephen Schall - Pittsburgh , PA

Fete

Jean Langlais

Alan Morrison - Philadelphia , PA

Prelude and Fugue on B.A.C.H.

Franz Lizst

Gregory D'Agostino - New York , NY
Afterward, there was more time to chat. Jonathan Biggers (left) and Alan Morrison (center) chat with Joanne Rogers (right).
POE instructor Donald K. Fellows (right) and an attendee chat about the program afterwards.
A happy group of concert goers, instructors, and students depart - to get ready for the next day of work. Dr. Ann Labounsky (foreground, back to camera) chats with an attendee about improvisation techniques. She provided a demonstration on two unlikely themes - "Loony Tunes" and the "Flintstone's". Who says that organists can't have fun! The occasional snickers on the theme gave way to amazement when folks heard how she cleverly interposed the themes, sometimes humorously and sometimes seriously.
---
Day 4 - Lessons and Peggy Haas Howell Recital
After a hard day of practice and instruction, students met at Saint Paul Cathedral. The organ at Saint Paul was built by the Rudof von Beckerath company as a 'tracker' instrument. All of the connections to the keys are fully mechanical - no electronics is used! It is a fairly authentic representation of the type and style of instrument that J. S. Bach would have used. This makes it an exciting instrument for many organists and organ aficionados.
Saint Paul is conveniently located in the Oakland section of the city, adjacent to the University of Pittsburgh and Carnegie-Mellon University. It is the educational and cultural heart of Pittsburgh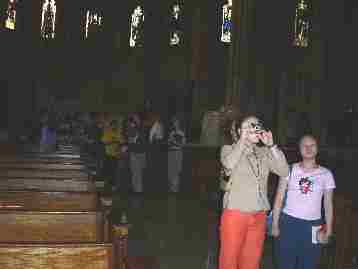 The Cathedral is very spacious and resonant. Students were amazed at the interior.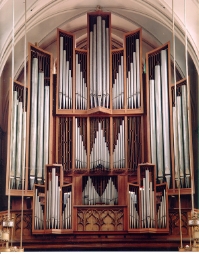 Especially the mighty organ facade at the rear of the church. The organ console commands the entire rear section of the Cathedral with its impressive visual presence. The largest pipes pictured on the sides are some of the 32' pedal pipes.
The view from the choir loft down to the sanctuary in truly impressive!
| | | |
| --- | --- | --- |
| Instructors Huw Lewis (left) and John Walker (right) compares notes before the recital. | Instructor Gregory D'Agostino (left) and Faculty Coordinator Adam Brakel (right) look back and admire the organ facade. | Jonathan Biggers (left) snickers as J. Barbara McKelway (right) sticks out her tongue and dares the cameraman to take a picture. (He did!) |
| Director Jeff Alban (left) chats with Chaperone Robert Olsavicky about tomorrow's schedule. | Donald K. Fellows (left) and Russell Weismann (right) relax for a minute before the recital. Donald worked hard to accommodate Peggy Haas Howell with practice time at the busy Cathedral. | Instructor Cynthia Pock chats with two audience members at the door. |
| The students were very excited when they saw the great space in the Cathedral, looked at the fantastic organ facade, and read the ambitious program. | Everyone got seated fairly quickly. | POE Secretary Kate Scott (right) welcomes her grandfather (left foreground). Kate is an outstanding organist who comes from a musical family - her younger sisters also play!. |
The recital began. Peggy Haas Howell is pictured here at the console..
The music drifted through the Cathedral from on high. It was a celestial performance.
Recital Program
Work

Composer

Prelude and Fugue in D Major (BuxWV 139)

Dieterich Buxtehude

Renaissance Dances from the Susanne van Soldt Manuscript
-Brande Champanje
-Almande Brun Smeedelyn
-Almande de La nonette
-Almande

Anonymous Dutch

Echo Fantasia (L 34)
Jan Pieterszoon Sweelinck

Ballo del granduca

Jan Pieterszoon Sweelinck

Two Chorale-preludes
-Herr Jesu Christ, dich zu uns wend, BWV 655
-Wir glauben all' an einen Gott, Vater, BWV 740

Johann Sebastian Bach

Prelude and Fugue in D Major, BWV 532

Johann Sebastian Bach

Sonata V, Opus 65, no. 5
-Andante
-Andante con moto
-Allegro Maestoso

Felix Mendelssohn Bartholdy

Yankee Doodle with variations

James Hewitt

Variations on " America " for organ

Charles Ives
After which the students got a chance to climb the spiral staircase and visit with the might von Beckerath itself! They were very excited to see this authentic style of instruments..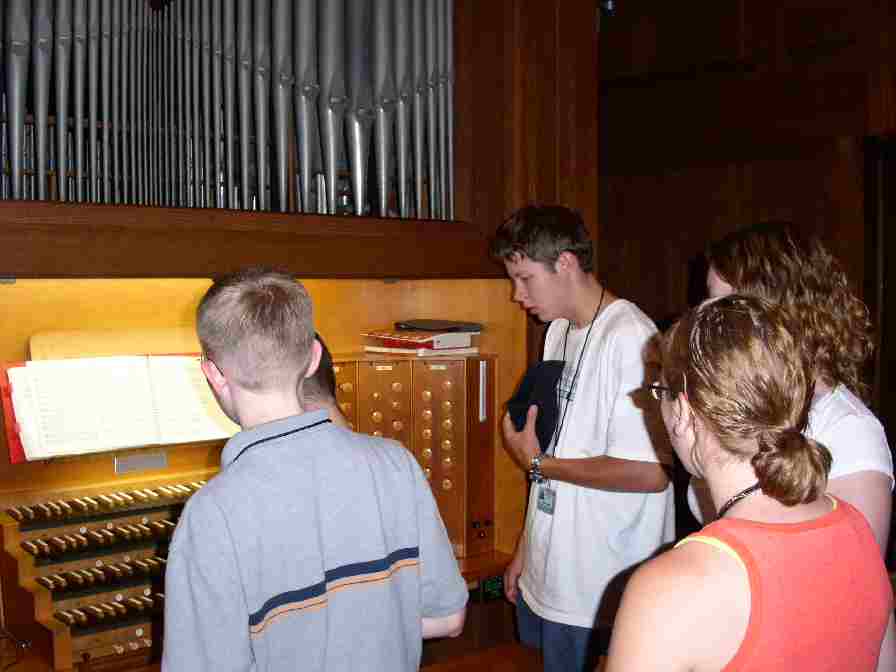 ...and, of course, get a chance to actually try a tracker style organ!
Three church committee members were having a meeting and heard the music. They stopped in to catch the last part of the recital. After it, they were delighted to hear how the students had enjoyed the instrument and visit to the Cathedral.
Eventually, Peggy Haas Howell (below, center) was able to escape and enjoy a well earned dinner with Donald K. Fellows (below, right). Christoph W. Linde (below, left) stopped by to enjoy the recital and hear the von Beckerath. Christoph was one of the original installers of the instrument 50 years ago! He was on his way to the national AGO convention and stopped by to hear Peggy play and see how this very impressive instrument was doing.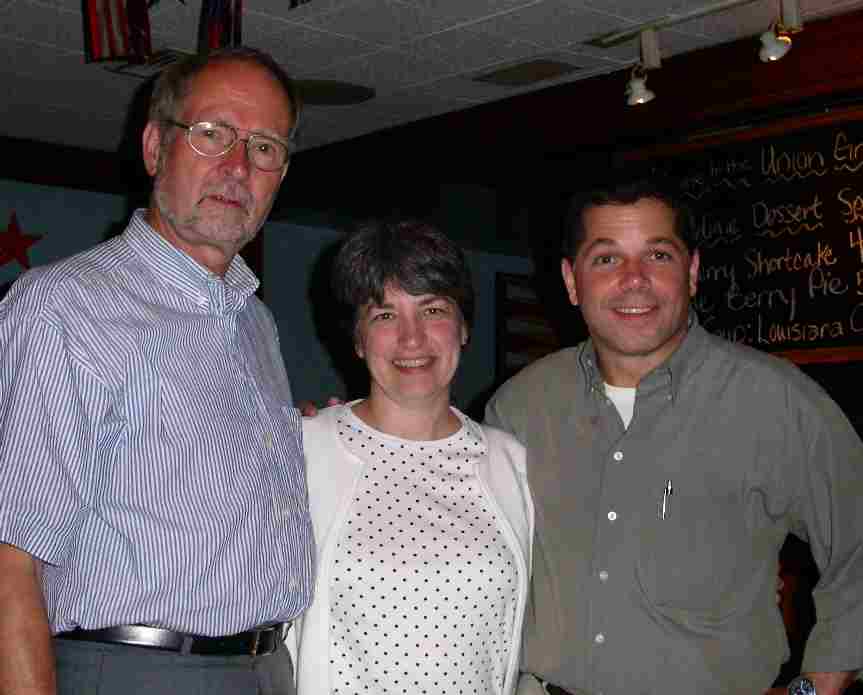 ---
Day 5 - Field Trip and Student Recital Practice
Field Trip! The students got to see organs being produced at the Kegg Pipe Organ Builders in Hartville, Ohio. It was a few hours on the bus, a great tour, and a few hours back to work in preparation for their Friday recital.
Heinz Memorial Chapel on the University of Pittsburgh campus was the venue for evening practice and Friday recitals. (A spire of Saint Paul Cathedral, one block away, can be seen peeking out mid right.) This is a non-denominational Chapel at the University.
Chapel Director, Patricial K. Gibbons, has been a terrific resource for local organists and arts groups - enabling use of this great space and organ for many uplifting spiritual and educational events. (She recently instituted an organ concert and recital series at the Chapel that has had nearly 2,000 in attendance this past season!)
Inside, Jonathan Biggers (right, foreground) and POE Director Jeff Alban (right, background) discuss practice and recital strategy with the Reuter Organ Console in background)
Dr. Biggers was tremendously helpful in expediting registration and set-up for the students!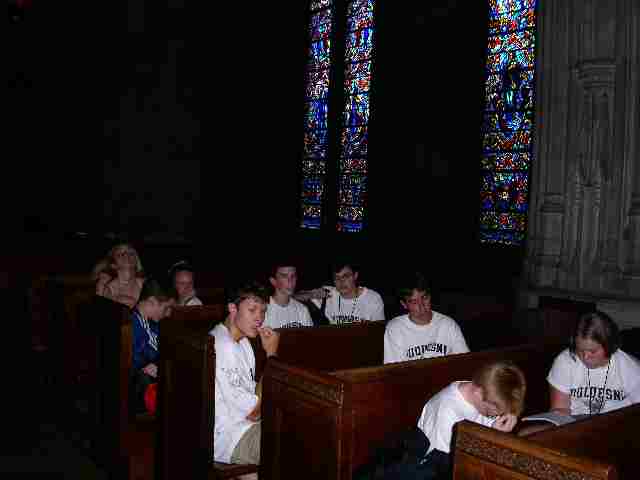 Students came into the Chapel in small groups to wait for practice time. The Chapel was gently lit by its tall transept stained-glass windows - the tallest of this kind in the world!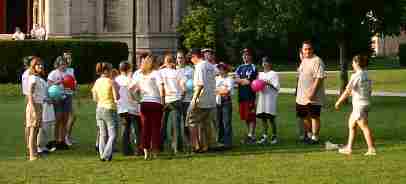 Well, there was also fun to be had out on the lawn.....
....until you were called to come in to practice!
Some students really worked hard, reviewing their music, registration and fingering before it was time to use the organ.
Directly across the expansive quadrangle from Heinz Memorial Chapel, the 42 floor Cathedral of Learning casts an impressive shadow. This is the main administration building for the University.
For an impromptu diversion, a few students and chaperones went into the Cathedral of Learning, having some fun with the revolving door in the process.
They were dwarfed by the massive columns and chairs of the 4 story "Commons Room". This room is flanked by authentic Nationality Classrooms that represent each of the founding Nationalities of the Pittsburgh area. They also took a ride up to the 36th floor to see the view!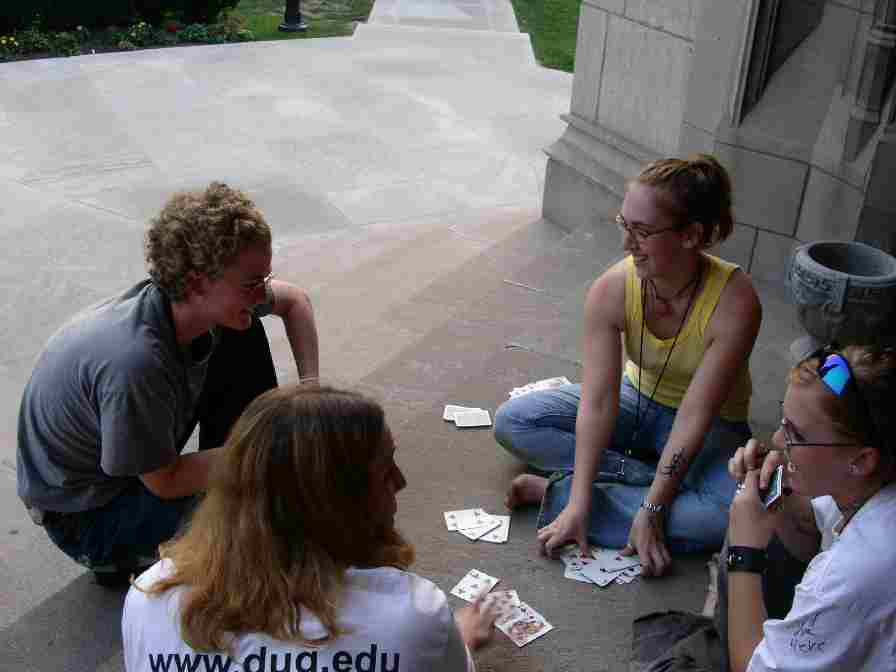 There was also time to spend with fun and games out on the steps of the Chapel.
And everyone had to get their office "Duquesne University POE" t-shirt signed!
As evening fell, folks finished waiting on the steps, munching some treats and cooling off with some soda.
It was a long day - but everyone had a chance to practice for their big recital tomorrow!
---
Day 6 - Student Recital and Graduation (Gadiamus Igitur)
This was the big day for students! A chance to play in recital, put into practice what they learned, and fill a space with music. The students caused the building to shake with their powerful performances and had everybody straining to hear quiet and delicate movements. The full capacity of the organ was displayed at the recital!
Heinz Memorial Chapel (side view) was alive and ready for the student recital. The side transept windows are the tallest stained glass structures in the world. An amazing sight from inside that contributes to the rarified atmosphere of this special place.
The on-site Heinz Chapel Staff, Christine M. Truhan and Robert L. Digby, had the Chapel ready and waiting for the arriving students.
Students quickly came in and sat down in order, ready to practice!
Much like the night before, they went through their music, making sure that they had noted every detail and change. A credit to the expert instruction that the received this past week.
But there was some time to take in the exquisite stained glass. One student passes the tall transept window in search of the "Mona Lisa". (Leonardo DaVinci is depicted in the next window, holding a miniature of his famous picture.)
This student is checking out the intricate Heinz family window, dedicated to the memory of the original Henry John Heinz by his children.
Pittsburgh AGO Chapter Dean (leader), Mark C. Nurnberger is there to hear the aspiring organists.
Over 100 people were in the Chapel in in addition to the 40 students for the recital. It was very well attended! The students sat up in the front rows. The organ actually extends up to the first pillars of the Chapel - it's one of the few instruments that actually extends out into the pew area. So the students were actually sitting "in" the organ!
The Recital began, and the students performed virtually flawlessly. Everyone remembered their cue, set the correct pistons, and played well. It was inspiring to see so many young people performing so well in such a great space.
Recital Program
Applause was in order! The students were congratulated by the appreciative audience!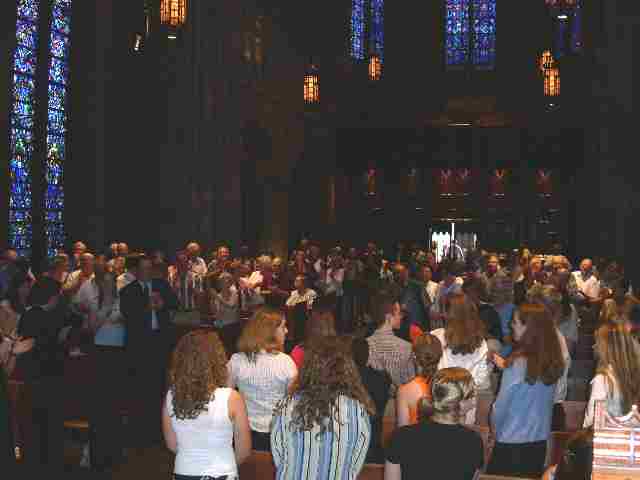 One by one, they received their POE diploma from Director Jeff Alban.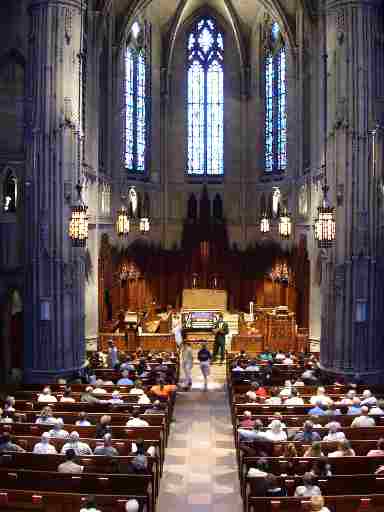 There was also time to spend with fun and games out on the steps of the Chapel.
But enough formality! It's time to celebrate!
Some faculty members, such as Gregory D'Agostino (pictured far left) , were on hand to chat with their students.
It was time for pictures on the console of the Reuter, with its 4,272 pipes. Kate Scott, POE Secretary, and her family pose for a shot. Kate has performed in a spectacular recital this past season at Heinz Memorial Chapel.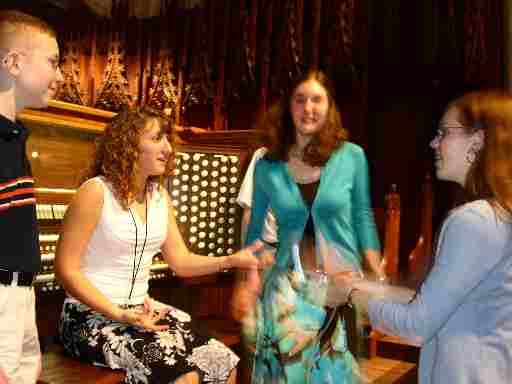 Time for some pictures at the console!
Say "Cheese"!
Instructors Donald K. Fellows(waving, left) and J. Barbara McKelway (waving, right) wave "goodbye". They were delighted at the tremendous participation and success of the event and are looking forward to seeing some of the young organists perform in the future. (Barb is the outgoing Chair and Don the incoming Chair of the Organ Artists Series which has been bringing world-renowned organists to Pittsburgh in performance for over 25 years.)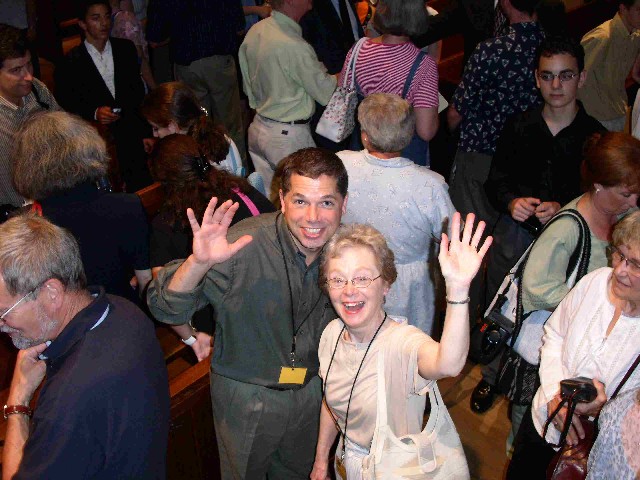 Copyright © 2020, Pittsburgh Chapter of the American Guild of Organists. All rights reserved.